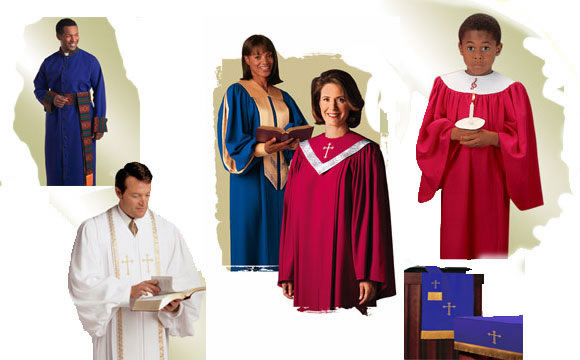 James' House of Robes
Choir Robes, Clergy Robes, Cassocks, Pastor Apparel, and Usher Supplies!

Check out our new products for the year ! Shop Now !
Free Robes, Free Measurements -- Call for Details!
We offer Custom Robes and Matching Capes!
Are you seeking a unique look for your church choir? Custom robes offers you a choice of styles, colors, monograms, matching capes, and other accessories in a variety of combinations. James' House of Robes will assist you with styles, sizing, colors, and pricing.
Please contact James' House of Robes to place your order. Custom-robe orders cannot be placed through the web-site at this time.
704-684-0274 or 704 222-6435 or james@jameshouseofrobes.com.
We are an authorized Murphy Robes dealer.
Be the first to order my new book entitled "A poet sings of freedom, love and life. The book looks at three major aspects of life in America and of life period. It gives us an on-site view of race relations in The United States during a very tumultuous time. But it's not just about race relations, it's also about love, it's about life,... it's about people like you and I. The book can be ordered direcctly from Amazon by clicking on the image above.
Tab Collar Clergy Shirt SM113 Full and half sizes 15 – 18 ½; Full sizes 19 – 21 $39.90 ea. Note: This item has been discontinued, but we still have some sizes available. Backorders on this garment will not be accepted. If this...